by Zero Hedge
3/14/21
Thousands of demonstrators gathered across the country in various metro areas on Saturday to mark the first anniversary of Breonna Taylor's death. Taylor, a 26-year-old Black woman, was killed by police on Mar. 13, 2020, when officers raided her apartment in Louisville, Kentucky. Protesters across the country demanded police reform and the end to racial injustice. While many of the protests started peaceful, as night fell, violence erupted.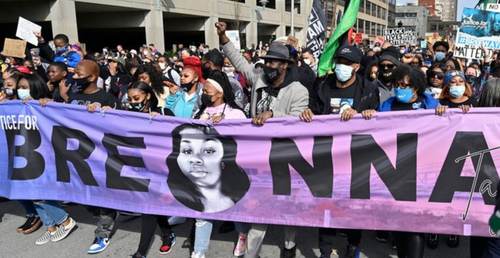 On Saturday, activists and supporters assembled at Jefferson Square Park in Louisville to remember Taylor's life. Taylor's family joined the rally, where many called on lawmakers to hold the police officers involved in her shooting accountable for their actions. The city settled with Taylor's family in September for $12 million – the settlement also included several police reforms.
Benjamin Crump, a lawyer representing Taylor's family, told demonstrators, "We got two different Americas. We got one for Black Americans and one for white Americans."
"We got to get justice for all our people in America," Crump said.
Meanwhile, demonstrations in Los Angeles began peacefully but turned violent by late evening. Hundreds marched in the downtown district, shuttering streets and clashed with police.
One of the most publicized events of the night was when demonstrators were beating a police car's hood when the officer suddenly accelerated – throwing the demonstrators onto the road.
One activist caught the incident on video and uploaded it to Twitter. The person said: "LAPD just ran over two protesters at the Hollywood Breonna Taylor march."