by Zero Hedge
3/16/21
At a sensitive moment that both US Secretary of State Antony Blinken and Defense Secretary Lloyd Austin are traveling in Asia where they are discussing both China and North Korea policies with allied leaders in Tokyo and Seoul on Tuesday and Wednesday, CNN has cited US intelligence officials who say Pyongyang is likely preparing to conduct its first weapons test since Biden entered the White House.
CNN's Barabara Starr reports that American intelligence agencies "are on alert as the US and South Korea conduct scaled-down, simulated military exercises" and further that "North Korea might decide whether to go through with a test after seeing what comes out of Blinken and Austin's meetings in Asia."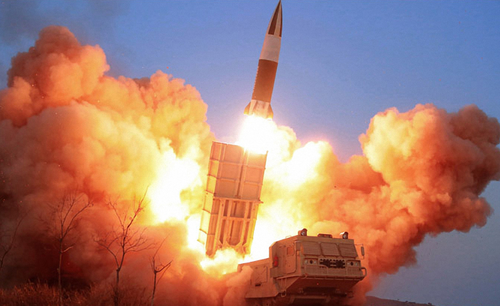 The White House is reported to be mulling a response should North Korea actually go through with a test.
Also on Tuesday, as CNN details, a top US general who heads up US Northern Command (which overseas defense of the continental United States), Gen. Glen Van Herck, issued the following warning:
"The Kim Jong Un regime has achieved alarming success in its quest to demonstrate the capability to threaten the U.S. homeland with nuclear-armed ICBMs, believing such weapons are necessary to deter US military action and ensure his regime's survival."
Meanwhile, on the same day the powerful sister of Kim Jong Un, Kim Yo Jong, warned the United States it must "refrain from causing a stink" if it desires to "sleep in peace" over the next four years.
"We take this opportunity to warn the new U.S. administration trying hard to give off gun powder smell in our land," she said. "If it wants to sleep in peace for coming four years, it had better refrain from causing a stink at its first step," she added. It marked the first time the 'rogue regime' directly addressed the new Biden administration. 
However, one prominent regional affairs expert, Tom Fowdy, called attention to the timing of all this sudden bluster out of Pyongyang, noting that "North Korea are masters at getting America's attention and forcing themselves on the agenda. By making a series of threats now, Pyongyang are unintendedly distracting the US from the anti-China dynamic of Blinken's visits too."
"North Korea plays what is essentially a small hand, to the absolute best of their ability every time. The two countries' situations are very different, but it has to be said they are far more tactful, strategic, prudent and outright Machiavellian negotiators than China," he added.