by Zero Hedge
4/30/21
A Bay Area, California Trump supporter infiltrated a group of far-left Antifa activists in Sonoma County, and documented the 'anti-fascist' group coordinating to target conservatives.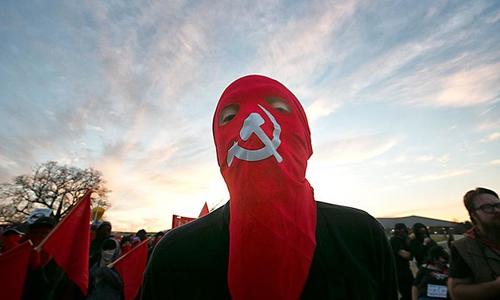 For example:
Group leader: "It's May Day, baby, like come out and take, take somethin' over with us, I don't, I don't (bleep)-ing know."
Member: "Let's kill people. (laughs)"
Group Leader: "Let's kill some cops."
Member: "Yeah."
In an exclusive report by ABC7, the Republican infiltrator provided a "target list" and recordings of the group's planning sessions, which may be connected to recent acts of vandalism – including an incident at the former home of a defense witness in the Derek Chauvin trial.
Former Santa Rosa Police Officer Barry Brodd testified as a use of force expert in the George Floyd trial, defending the actions of Derek Chauvin.

Brodd testified on April 13, "I felt that Derek Chauvin was justified."

Four days later, masked figures in black threw a severed pig head and pig blood at the house where Brodd used to live in West Santa Rosa.

Lt. Jeneane Kucker of the Santa Rosa Police Department told the I-Team, "I know that the victims, in this case, feel threatened. And they don't feel safe in their home." –ABC7
Brodd, as it turns out, hasn't lived at the address in more than a year. Local police, meanwhile, think the same group of Antifa activists may be responsible for coating a statue in a nearby shopping plaza with blood, accompanied by a sign which read "oink oink."
"So, I saw that they were here, I read their manifesto, and I could tell that they were a threat to the community, and somebody needed to do something about this," said the conservative infiltrator.