by Zero Hedge
Update (2000ET): The Centers for Disease Control and Prevention announced Thursday that it will convene an "emergency meeting" of its advisers on June 18th to discuss rare but higher-than-expected reports of heart inflammation following doses of the mRNA-based Pfizer and Moderna COVID-19 vaccines.
The new details about myocarditis and pericarditis emerged first in presentations to a panel of independent advisers for the Food and Drug Administration, who are meeting Thursday to discuss how the regulator should approach emergency use authorization for using COVID-19 vaccines in younger children.
As CBS reports, the CDC previously disclosed that reports of heart inflammation were detected mostly in younger men and teenage boys following their second dose, and that there was a "higher number of observed than expected" cases in 16- to 24-year-olds. Last month, the CDC urged providers to "ask about prior COVID-19 vaccination" in patients with symptoms of heart inflammation.
We'll leave the judgment up to someone far more qualified…
Does anyone else not find it odd that after discovering 800 cases in the VAERS database the "emergency" meeting is in 7 days? … and in the meantime, every public health authority figure is encouraging parents to get their young children vaccinated?
* * *
As The Epoch Times' Zachary Stieber detailed earlier, Federal authorities have received over 800 reports of heart inflammation in people who received a COVID-19 vaccine, a health official said Thursday.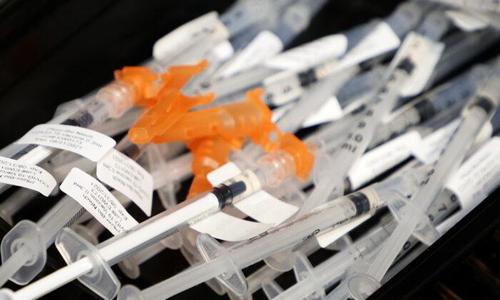 The reports of myocarditis or pericarditis were submitted to the Vaccine Adverse Event Reporting System, a passive reporting system run jointly by the Centers for Disease Control and Prevention (CDC) and the Food and Drug Administration, through May 31.
The bulk of the reports described heart inflammation appearing after the second of two doses of either the Pfizer of Moderna vaccines, both of which utilize messenger RNA technology.
Authorities stress that anybody can submit reports through the reporting system but authorities have already verified that 226 of the reports meet the CDC's working case definition, Dr. Tom Shimabukuro, a deputy director at the agency, said during a presentation of the data. Followup and review are in progress for the rest.
Of the 285 case reports for which the disposition was known at the time of the review, 270 patients had been discharged and 15 were still hospitalized, officials said. Myocarditis typically requires hospital care. No deaths were reported.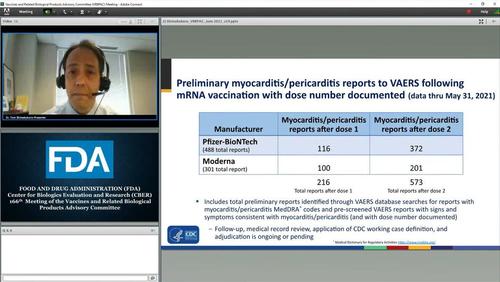 A slide on myocarditis reports post-COVID-19 vaccination is shown during the Food and Drug Administration's Vaccines and Related Biological Products Advisory Committee meeting on June 10, 2021. (FDA/Screenshot via The Epoch Times)
The CDC announced last month that it was investigating reports of heart inflammation in teenagers and young adults who received a COVID-19 vaccine, though it took no definitive action besides saying it would continue reviewing case data.
An advisory committee to the agency, the Advisory Committee on Immunization Practices, said in a little-noticed update published dated May 24 and published on June 1 that data from VAERS showed that in the 30 days following the second dose of mRNA vaccinations, "there was a higher number of observed than expected myocarditis/pericarditis cases in 16–24-year-olds."
Data from the Vaccine Safety Datalink, an active reporting system that relies on nine healthcare organizations in seven states, did not show higher than expected cases, it added.
"However, analyses suggest that these data need to be carefully followed as more persons in younger age groups are vaccinated," the advisory committee's vaccine safety workgroup said in its report.
Israel's Health Ministry said that same day that it found 275 cases of heart inflammation among the more than 5 million people in the country who received a vaccine between December 2020 and May. An Israeli study found "a probable link" between receiving the second dose of the Pfizer jab "and the appearance of myocarditis among men aged 16 to 30," the ministry said.
Shimabukuro said the U.S. passive surveillance data "are consistent with the surveillance data that emerged from Israel."
The figures are also consistent with other case reports and data from the Department of Defense.
The vast majority of the U.S. reports deal with male patients. Approximately 300 preliminary reports indicated the patients suffered chest pain, with nearly as many having elevated cardiac enzymes.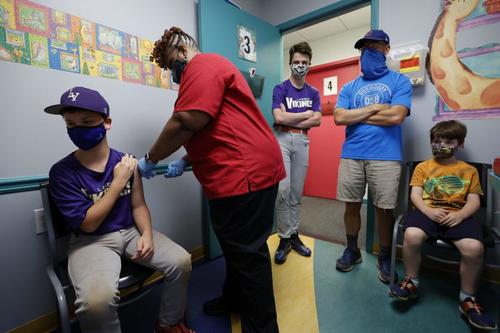 Family members watch as a 12-year-old is inoculated with Pfizer's vaccine against COVID-19 at Dekalb Pediatric Center in Decatur, Ga., on May 11, 2021. (Chris Aluka Berry/Reuters)