by Zerohedge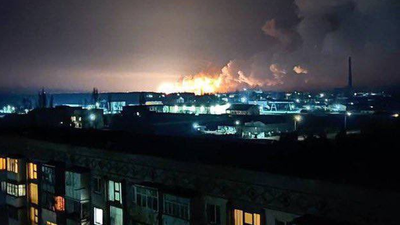 LIVE FEED of multiple cameras from across Ukraine:
LIVE FEED from Kiev:
Russian Ministry of Defense: "Military infrastructure, air defense facilities, military airfields and aircraft of the Armed Forces of Ukraine are being put out of action by high-precision means of destruction."
RUSSIA IS ATTACKING UKRAINE'S MILITARY INFRASTRUCTURE WITH HIGH-PRECISION WEAPONS – RIA CITES RUSSIAN DEFENCE MINISTRY
RUSSIA SAYS IT'S TARGETING UKRAINE ANTI-AIRCRAFT SYSTEMS: IFX
RUSSIA: USING HIGH PRECISION STRIKES ON UKRAINE MILITARY: IFX
ZELENSKIY: UKRAINE IS INTRODUCING MARTIAL LAW
UKRAINE IMPOSES MARTIAL LAW ACROSS THE COUNTRY: ZELENSKIY
RUSSIAN DEFMIN: NO THREAT TO UKRAINE POPULATION: TASS
UKRAINE PRESIDENT SAYS RUSSIA CARRIED OUT MISSILE STRIKES ON OUR INFRASTRUCTURE AND ON OUR BORDER GUARDS
RUSSIAN-BACKED REBELS SAY START ATTACK ON UKRAINE-CONTROLLED TOWN NEAR LUHANSK – IFAX
Ukraine is urging the following action:
Tulsi Gabbard weighs in:
Reports are coming in that the Russians have taken over an air base and/or airport near Kiev, possibly with the aim of taking out command and control centers supporting operations in Donbas.
RUSSIAN MILITARY CARRYING OUT AIRSTRIKES ON UKRAINIAN MILITARY COMPOUNDS AND COMMUNICATION CENTERS NEAR KYIV
UKRAINE TO IMPOSE MARTIAL LAW – TOP SECURITY OFFICIAL, ACCORDING TO LOCAL MEDIA
UKRAINE INTERIOR MINISTRY URGES CITIZENS TO HIDE IN SHELTERS
INTERIOR MINISTRY WARNS UKRAINE CAPITAL OF MISSILE ATTACK
Ukraine is saying Russia's operation is expending beyond the east, which Putin had previously proclaimed as independent territory. It's increasingly looking like Russia is taking out all main military command and control centers across Ukraine, while focusing ground troops and manpower on Donbas. Strikes outside the east appear to be focused on neutralizing airfields so there's no air retaliation. CNN is citing that its correspondents have heard strikes in seven cities across the country.