by Zerohedge
According to a handful of reports in the British press, criminal gangs are looking to exploit Ukrainian women fleeing the war so that they can be sold into sex slavery.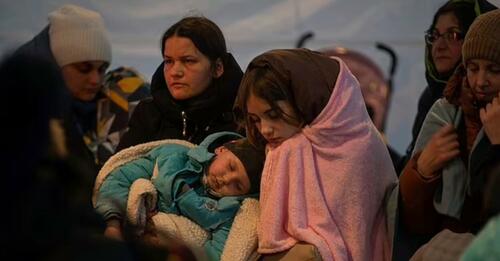 At this point, some 1.5 million people (mostly women and children) have already fled Ukraine over the past 11 days alone, according to the UN's numbers. Gangs are looking to manipulate women by first offering them a place to live.
Warnings have come from police and aid workers in Poland, who have warned that sex traffickers are attempting to snatch up vulnerable girls weary from the long, perilous trip.
Most of the time, sex traffickers are posing as "good samaritans", according to the Daily Mail.
The criminals are offering unaccompanied women and children promises of safe accommodation and free transport, posing as good Samaritans to lure them away from the safety of official checkpoints.

It comes as European Union officials expressed concerns on Saturday that as many as seven million people could cross into neighbouring countries such as Poland, Moldova, Romania, Slovakia and Hungary in the coming months, which campaigners say will create a 'disturbing spike in human trafficking'.
What's more, the UN on Tusday declared the exodus from Ukraine repreents Europe's "fastest growing refugee crisis since World War II'" (that means the situation is even worse than the Syrian Refugee Crisis from the middle part of the last decade.
Poland so far is the most popular country for Ukrainian refugees, being right next door. All of this has led to an increase in Ukrainian refugees getting into random cars with strangers they do not know.
Tom Bell, a British aid volunteer working at Poland's Medyka border checkpoint just 50 miles from the Ukrainian city of Lviv, told the Telegraph: 'A lot of desperate Ukrainians are getting picked up in a car by someone they've never met and don't know.
Volunteers have been checking IDs to look for women traveling with strange men who might be targeted by the criminal gangs.
One source who spoke with the Daily Mail said she saw a confrontation between one 27-year-old woman and her would-be sex trafficker.
Meanwhile, a 27-year-old Ukrainian woman told MailOnline: 'I heard from a friend who crossed into Poland and told me she went with a guy who said he would take her to Warsaw for free but when they got there he asked for money.
"He got aggressive with her but he didn't get physical just saying he owed her the money and would have to pay her by working for him."

"She started shouting and managed to run away as people were watching. We are spreading the word among people to be careful."
One expert in human trafficking told the Daily Mail that the situation would likely only get worse.
Lauren Agnew, human trafficking policy expert for the charity CARE, told MailOnline: "The war in Ukraine will create a worsening situation in terms of human trafficking."

"It will have a vulnerable domino effect across Europe and refugees are at an increasingly high risk of exploitation."
She added that there would be a spike in the number of refugees being forced into prostitution.
"It is certain that as time goes on we will see a spike in numbers caused by refugees being exploited by traffickers and ending up potentially as sex workers, involved in criminal gangs or forced labour and domestic slavery."

"These gangs prey on the precariousness of refugees and the war is a business opportunity for them to make a profit and get people into Europe and ultimately the UK."
Gangs typically rely on some version of the "bait and switch": they offer women a "free ride" to some European country, but when they arrive, the trafficker insist that the women must now repay them by "working for them".