by Zerohedge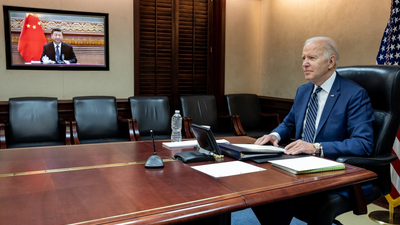 Update(1500ET): Shortly before the afternoon press briefing, the White House belatedly issued its call readout summary. The Chinese side had called for direct talks between NATO and Moscow to solve the Ukraine crisis, while the fresh White House readout says Biden warned Xi over the "implications and consequences if China provides material support to Russia as it conducts brutal attacks against Ukrainian cities and civilians."
Here's the full White House text below:
President Joseph R. Biden, Jr. spoke today with President Xi Jinping of the People's Republic of China (PRC). The conversation focused on Russia's unprovoked invasion of Ukraine. President Biden outlined the views of the United States and our Allies and partners on this crisis. President Biden detailed our efforts to prevent and then respond to the invasion, including by imposing costs on Russia. He described the implications and consequences if China provides material support to Russia as it conducts brutal attacks against Ukrainian cities and civilians. The President underscored his support for a diplomatic resolution to the crisis. The two leaders also agreed on the importance of maintaining open lines of communication, to manage the competition between our two countries. The President reiterated that U.S. policy on Taiwan has not changed, and emphasized that the United States continues to oppose any unilateral changes to the status quo. The two leaders tasked their teams to follow up on today's conversation in the critical period ahead.
Importantly, it appears the two leaders agreed that their teams would follow-up on further discussions toward pursuing agreed upon aspects of the talk. 
The Chinese readout had said Xi told Biden, "The Ukraine crisis is something we don't want to see. Relevant events once again show that state-to-state relations cannot go to the point of confrontation. Conflict and confrontation are not in anyone's interests."
And according to the latest from FT:
Xi Jinping warned Joe Biden against imposing "sweeping and indiscriminate sanctions" during a lengthy call on Friday as China's leader fended off the threat of retaliation from Washington over its stance on the Ukraine war.
Meanwhile defense officials say that Russia's military still has a huge amount of troops to draw on, with the majority of forces still assembled near the border – said to be "still available" – a full three weeks after the initial invasion. 
* * *
Update(12:40ET): While the White House call readout has been slow to emerge, below is an outline of the call, now concluded, complied by Bloomberg:
Both Xi and Biden think the video call exchange was "constructive"
Xi reiterated China's stance that it would like to provide humanitarian aid to Ukraine and other nations affected, and that all parties should jointly support dialogues and negotiations between Russia, Ukraine
Biden said the U.S. is willing to keep communication open with China to avoid further escalation of the Ukraine crisis
Xi said he values the reiteration of Biden that the U.S. will not seek new cold war, not seek to change China's system, not to oppose China with allies, not to support "Taiwan independence"
Xi said China-U.S. ties will see "subversive" impact if Taiwan issues aren't handled properly
Xi said he hopes U.S. will pay enough attention to Taiwan issues
Separately Xi said the U.S. side has misjudged China's strategic intentions, and no actions have been taken from the U.S. side to enforce President Biden's positive remarks, leading to the current situation of China-U.S. relations
Some further emerging details of the call via Reuters wire:
XI TELLS BIDEN TOP PRIORITIES NOW ARE TO CONTINUE DIALOGUE, NEGOTIATION, AVOID CIVILIAN CASUALTIES, PREVENT HUMANITARIAN CRISIS, AND CEASE FIGHTING AND END 'WAR' AT SOON AS POSSIBLE – CHINESE STATE MEDIA
XI TELLS BIDEN CHINA IS WILLING TO PROVIDE FURTHER HUMANITARIAN RELIEF- CHINESE STATE MEDIA
XI TELLS BIDEN U.S., NATO SHOULD HOLD TALKS WITH RUSSIA TO RESOLVE FACTORS BEHIND UKRAINE CRISIS- CHINESE STATE MEDIA
* * *
Update(10:41ET): Chinese state media has issued some initial statements to come out of the Friday Xi-Biden phone call, which the White House said is being held in the situation room after it started a few minutes after 9am.
State broadcaster CCTV cited Xi's initial words to Biden as stressing the relations between countries "shouldn't resort to arms" in reference to the Russia-Ukraine conflict. Xi reportedly said that "conflicts and confrontations are not in anyone's interest" and further that all countries must "value peace and safety". Xi said the crisis in Ukraine "isn't what we want to see."
And importantly, Xi said, "We should not only steer China-U.S. relations forward on the right track, but should also shoulder our international responsibilities." Biden is expected to convey US concerns over reports Beijing is ready to supply military equipment to Russia amid the Ukraine invasion, something which China has rejected.