by Zerohedge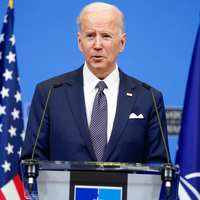 Update(15:55ET): Nothing to see here… only the President of the United States speaking at an emergency summit of NATO heads making somewhat overly casual sounding references regarding likely massive energy and food shortages…
"It's going to be real," Biden said at a news conference in Brussels. "The price of the sanctions is not just imposed upon Russia. It's imposed upon an awful lot of countries as well, including European countries and our country as well."
As Bloomberg observes, "Ukraine and Russia are both major producers of wheat, in particular, and Kyiv's government has already warned that the country's planting and harvest have been severely disrupted by the war."
And The Federalist's Sean Davis aptly summarizes where things stand…
"We're about to face massive energy and food shortages, and Biden's solution is to ban drilling and put expensive and inefficient solar panels and windmills on what's left of American farmland that hasn't been bought up by China or BlackRock," he wrote on Twitter.
Meanwhile, below are Biden's comments on China, coming after the formal NATO statement published Thursday:
The NATO statement included the following: We call on all states, including the People's Republic of China (PRC), to uphold the international order including the principles of sovereignty and territorial integrity, as enshrined in the UN Charter, to abstain from supporting Russia's war effort in any way, and to refrain from any action that helps Russia circumvent sanctions.
Also of note from the Thursday afternoon speech is that Biden said he supports booting Russia – and thus Putin – from the Group of 20:
President Biden said Thursday that he would support Russia being expelled from the G20 over its invasion of Ukraine, a step that would further Vladimir Putin on the international stage.

Biden said the decision would ultimately be up to the G20, but that he has proposed allowing Ukraine to attend as an observer nation if other members do not agree to remove Russia.
Here's what he said when asked about the G20 issue by a reporter:
"My answer is yes," Biden said during a news conference when asked about whether Russia should be removed. "It depends on the G20. That was raised today, and I raised the possibility that, if that can't be done – if Indonesia and others do not agree – then we should, in my view, ask to have both Ukraine be able to attend the meetings as well as … basically (having) Ukraine being able to attend the G20 meeting and observe."
In bears recalling concerning the global food shortage the president is warning about…
* * *
Update(1333ET): President Joe Biden held a live Q&A press conference from Brussels following Thursday's NATO extraordinary session to address the Ukraine crisis.
"It would trigger a response in kind," said Biden when asked what NATO 's response would be if Putin used chemical weapons. Watch:
But over to the press pool, something is seriously wrong when mainstream media journalists ask questions like this – almost seeming to be desirous of seeing WW3 breaking out…
And then there are these very alarming statements…