by Zero Hedge
Protests in China over President Xi Jinping's zero-tolerance Covid-19 measures have intensified – expanding from Beijing and the far western Xinjiang region to several other major cities, including Wuhan, Shanghai, and the eastern city of Nanjing, according to video and photos circulating on social media.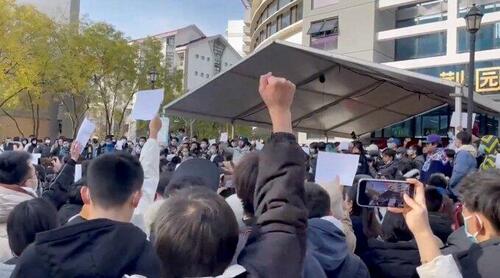 The weekend protests followed Friday demonstrations in Urumqi, the capitol of Xinjiang, after a deadly fire killed residents who were locked inside following lockdowns which have lasted more than 100 days. Officials have reported 10 deaths in the fire, however citizens have reported up to 40 who perished.
The protests are a rare display from a typically compliant citizenry, who know that crackdowns on dissent have intensified over the past decade. As the Wall Street Journal notes, " Having protests over the same issue break out in multiple Chinese cities is almost unheard of, outside of nationalist outpourings, such as anti-Japanese protests."
Since the Tiananmen Square protests in 1989, the ruling party has allowed some local demonstrations, but made it a priority to prevent nationwide protests.

On Saturday, videos circulating on social media showed crowds gathering on a street in central Shanghai calling for a lifting of lockdowns. The videos were verified by Storyful, a social-media research company owned by News Corp, parent company of The Wall Street Journal. -WSJ
Protests are calling for Xi Jinping to step down
During Saturday evening demonstrations in Shanghai – the largest city in the country, people were openly heard shouting anti-government slogans such as "Xi Jinping, step down!" and "Communist party, step down!" the BBC reports.
Read more here…