by Zero Hedge
Summary: Zelensky spoke for a little over 30 minutes and in English, at times invoking key US historical moments from the Battle of Saratoga to the Battle of the Bulge (and comparing the courage of Ukrainian soldiers), after he was greeted as a 'hero' in a minutes-long standing ovation. He asserted that Ukraine is winning "against all odds". He was throughout frequently interrupted by standing ovations from a partially filled Congress, which was missing a lot of Republicans, in part given a number of lawmakers had already traveled home for the holidays ahead of the unexpected in-person visit, and facing incoming severe weather.
Zelensky peppered the speech with positive and optimistic statements like "Ukraine holds its lines and will never surrender," and "but our defense forces stand" – especially offering the latest example of Bakhmut, in the Donbas. As expected, a major theme was the need for continued US support, for which he thanked the Biden administration, Congress, and the American people.
"The occupiers have an advantage in artillery and much more heavy equipment like tanks and airplanes," he began a section of the address in which he appealed for continued aid. "Your support is crucial… to get to the turning point on the battlefield."
"We have artillery, is it enough? Not really." He explained that Ukraine needs enough ammo and weapons to be able to completely expel Russian forces from Ukrainian territory. He also spoke of the misery that Russian-operated Iranian drones are unleashing on the civilian population in attacking energy infrastructure. "I would like to thank you for the financial packages," he said, and followed with: "Your money is not charity" but an investment in "global security" that Ukraine will "handle in the most responsible way."
Among the more interesting statements was the moment he indirectly pressed for the US to provide tanks and warplanes. While he stressed that Ukraine has never asked American troops to fight on Ukraine's behalf on its soil, he asserted: "I can assure you that Ukrainian soldiers can perfectly operate American tanks and planes themselves."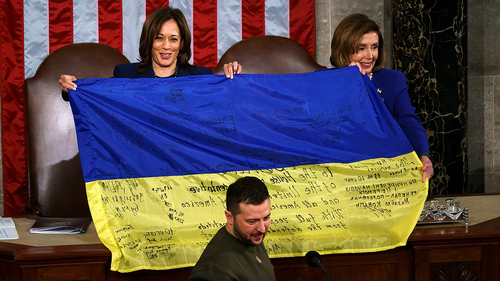 On the potential for a negotiated peace, he called attention of his prior "10-point plan" which he said should be implemented (and which Russia previously firmly rejected), and which he said Biden approved of during the Wednesday meeting at the White House.
Zelensky additionally called on Congress to join Ukraine in bringing every Russian "criminal" to justice. "Let the terrorist state" be held accountable, he said. He emphasized millions of Ukrainians will have no heating or water as they celebrate Christmas.
"Only victory!" he stressed near the end of the speech, and also quoted from Franklin D. Roosevelt's famous "Day of Infamy" speech. "The American people in their righteous might will win through to absolute victory," Zelensky said, and followed by pledging that Ukraine too will achieve "absolute victory."
Meanwhile in Moscow…
Throughout the afternoon, CNN's live coverage has been talking a lot about the below tweet by Donald Trump Jr…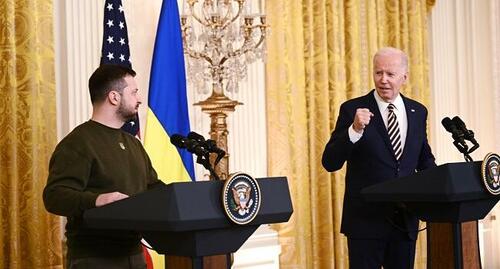 Zelensky for his part, said he's "thankful" for all that the American people have done, and that this is currently a "historic" visit. He said he's especially "grateful" to President Biden for his strong stance in support of Ukraine. Every dollar of this investment is toward "strengthening global security," Zelensky said. He repeatedly referred to "terrorist" Russia and its decision to invade, based on "tyranny". He pledged that ultimately Ukraine will "win" – and that "we will win together".
Biden pledged during the press conference that US support will remain "for as long as it takes".
* * *
Update (1425ET): Watch live as President Biden kicks off a joint press conference with Zelensky.
* * *
Update(1340ET): Zelensky has arrived on a large Air Force jet. He's expected to soon meet Biden at the White House, after which there will be a joint presser at 1630ET.
Read more here