by Tyler Durden Fri, 10/30/2020 – 21:40
Authored by Brett Redmayne-Titley via WatchingRomeBurn.uk,
Suddenly, the anticipated Trump campaign's October surprise: allegations that presidential candidate Joseph Biden has been a beneficiary of an international influence-peddling scheme with his son, Hunter, as the point man. This has dramatically, for the moment, turned the tables of election 2020.
This pre-election day chess move is an obvious, carefully planned Trump campaign hit job, but short-sighted, most pundits predict these allegations come too late to sway the outcome of election day.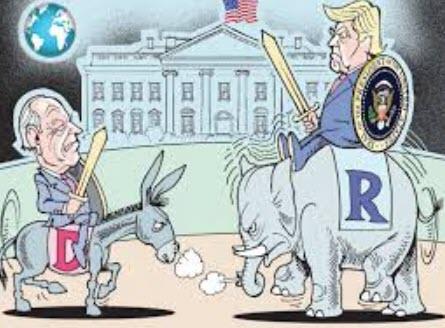 This view is dubious and misses what could indeed be a three-move check-mate against Joe Biden, but…after the votes are counted.
Come Nov 3, the race for POTUS is far from over. Trump's handlers seem to know this. The follow-up will be an unprecedented public spectacle that will likely very much include the Electoral College. Further, this possible coup will have sixty-four very valuable extra days, a Judiciary Committee, an Attorney General, a Senate and developing media attention, all remaining and at the RNC's disposal.
The Trump campaign knows this and appears to be playing the long game. Rudy Giuliani and Steve Bannon are not political fools. Thanks to Biden's true personality being exposed, a growing treasure chest of allegations have been handed over to Trump, four different times thus far. If these revelations prove true, should Trump lose, this will also provide his campaign no less than two more chances to bring Biden down.
The timing of the weeks four separate bombshells alleging a Biden family pay-to-play scheme mimic off course the effects of the July 22 and November 6th, 2016 Wikileaks pre-election revelations. Here, in context, it should be remembered that this massive leak of emails blew up the campaign of the, then, DNC frontrunner, Hillary Rodham Clinton. It also exposed the utter anti-democratic corruption and coup that was the 2016 DNC presidential election committee.
The Biden pay-to-play allegations also mimic those against Hillary Clinton US Secretary of State and the trove of evidence strongly indicating her own scheme in which her business partner, former president Bill Clinton, sold himself for international speeches…and access to Hillary's State Department. And, during Biden's tenure as VP.
Mere days ago, the initial salvo released the news of Hunter Biden's laptop and an alleged FBI cover-up of its illicit contents. In brief, Hunter had left it uncollected for months at a computer repair shop, and after seeing the laptop's contents the owner, John Paul MacIsaac, first turned it over to the FBI which did nothing with it. But MacIsaac had kept a copy of the hard drive, and next donated it to Trump's top henchman, Rudy Giuliani, who tossed this bone to the New York Post, who blew the whistle to the public.
Make a one-time donation
Make a monthly donation
Make a yearly donation
Choose an amount
Or enter a custom amount
$
---
Your contribution is appreciated.
Your contribution is appreciated.
Your contribution is appreciated.
Donate
Donate monthly
Donate yearly