by Zero Hedge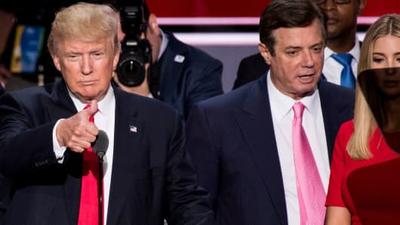 Just 24 hours after Donald Trump issued some 15 pardons and communications, including former campaign aide George Papadopoulos, former US congressmen Duncan Hunter and Chris Collins, and the four Blackwater guards, on Wednesday the President issued a second batch of pardons in as many days, this time naming two former associates, Paul Manafort and Roger Stone, as well as Charles Kushner, the father of Trump's son-in-law and adviser Jared Kushner.
Wednesday's list also includes several people recommended by former Florida Attorney General Pam Bondi, who was part of Trump's impeachment defense team, and Ike Perlmutter, the former CEO of Marvel Entertainment and a member of the president's private Mar-a-Lago Club in Palm Beach, Florida, according to a statement from the White House.
Full statements below:
Paul Manafort – Today, President Trump has issued a full and complete pardon to Paul Manafort, stemming from convictions prosecuted in the course of Special Counsel Mueller's investigation, which was premised on the Russian collusion hoax. Mr. Manafort has already spent two years in prison, including a stretch of time in solitary confinement — treatment worse than what many of the most violent criminals receive. As a result of blatant prosecutorial overreach, Mr. Manafort has endured years of unfair treatment and is one of the most prominent victims of what has been revealed to be perhaps the greatest witch hunt in American history. As Mr. Manafort's trial judge observed, prior to the Special Counsel investigation, Mr. Manafort had led an "otherwise blameless life." Since May, Mr. Manafort has been released to home confinement as a result of COVID-19 concerns.
* * *
Roger Stone – Today, President Trump granted a full and unconditional pardon to Roger Stone, Jr. President Trump had previously commuted Mr. Stone's sentence in July of this year. Mr. Stone is a 68-year-old man with numerous medical conditions. Due to prosecutorial misconduct by Special Counsel Mueller's team, Mr. Stone was treated very unfairly. He was subjected to a pre- dawn raid of his home, which the media conveniently captured on camera. Mr. Stone also faced potential political bias at his jury trial. Pardoning him will help to right the injustices he faced at the hands of the Mueller investigation.
* * *
Charles Kushner – President Trump granted a full pardon to Charles Kushner. Former United States Attorney for the District of Utah Brett Tolman and the American Conservative Union's Matt Schlapp and David Safavian support a pardon of Mr. Kushner. Since completing his sentence in 2006, Mr. Kushner has been devoted to important philanthropic organizations and causes, such as Saint Barnabas Medical Center and United Cerebral Palsy. This record of reform and charity overshadows Mr. Kushner's conviction and 2 year sentence for preparing false tax returns, witness retaliation, and making false statements to the FEC.
The latest list grants 26 full pardons and commutes all or part of the sentence of three additional individuals, after Trump on Tuesday issued 15 pardons and five commutations. Among those pardoned yesterday were two former Republican members of Congress, two targets of special counsel Robert Mueller's Russia investigation, and four military contractors convicted in the 2007 killing of more than a dozen unarmed Iraqi civilians. Last month, Trump pardoned Michael Flynn, his first national security adviser.
Paul Manafort received the toughest sentence of any Trump associate entangled in special counsel Robert Mueller's investigation into Russian interference in the 2016 election. Manafort, who has a long roster of foreign clients and has worked for many Republican presidential candidates — including George H. W. Bush and Ronald Reagan — was charged and found guilty of multiple counts of false income tax returns, failure to file reports of foreign bank accounts, and bank fraud related to activity from before he joined the Trump campaign. He was sentenced by a federal judge to seven years but was released to home confinement in early 2020 due to the COVID-19 pandemic. Manafort joined the Trump campaign in March 2016 as the campaign's convention manager. He served as Trump's campaign chairman from May 2016 until he resigned in August 2016.
"Mr. President, my family and I humbly thank you for the Presidential Pardon that you bestowed on me today. Words cannot adequately convey how grateful we are," Manafort said in a statement following the pardon. "History will record that your Presidency accomplished more in 4 years than any of your modern-day predecessors. You truly did 'Make America Great Again.'"