by Zero Hedge
01/12/21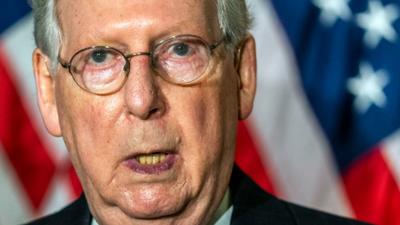 Update 2015 EST: Pence Against Using 25th Amendment
Numerous sources are reporting that Vice President Mike Pence has "ruled out" using the 25th Amendment to remove President Trump from office. The Vice President has instead urged congress to "focus on Biden transition and avoid impeachment," according to AP.
Pence sent a letter to Speaker Pelosi stating "I do not believe that such a course of action is in the best interest of our Nation or the Constitution."
Update 2001 EST: Senate May Have Enough Votes For Impeachment
CNBC's Eamon Javers is reporting that, according to a senior Trump official, there are enough Republican votes in the Senate to convict and remove President Trump from office if they receive articles of impeachment from the House on Wednesday.
Update 1917 EST: GOP Rep. Brian Fitzpatrick Introduces A Resolution To Censure Trump
Update 1806 EST: Several Republicans Join Cheyney In Voting To Impeach Trump
"At least three GOP lawmakers will move to charge the president from their own party with high crimes and misdemeanors," CNBC reports. They will join Liz Cheney in calling for impeachment of the President.
Rep. John Katko, R-N.Y., earlier said he would support impeachment after the president stirred up a mob that attacked the Capitol last week while Congress counted President-elect Joe Biden's presidential win. Rep. Adam Kinzinger, R-Ill., later joined Cheney and Katko. The riot left five people, including a Capitol police officer, dead.