by Zero Hedge
01/15/21
Authored by Michael Tracey via UnHerd (emphasis ours),
The most apt parallel for the second impeachment of Donald Trump may not be any other of the three previous presidential impeachments, including his own just over a year ago. It may instead be the PATRIOT Act, which was passed in the heated emotional aftermath of the September 11 attacks, with negligible debate afforded to the long-term implications of what Congress was enacting. Reason and deliberation had given way to a collective desire for security and revenge, and thus the most sweeping curtailment of civil liberties in the modern historical record was approved. Those who departed from the swiftly assembled consensus could expect to be denounced as sympathisers to terrorists.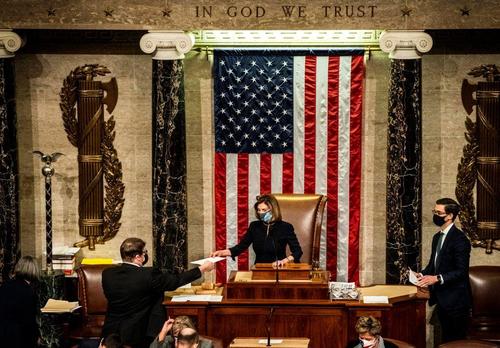 Likewise, if you deign to raise concerns about the implications of this sudden impeachment sequel — or any of the other extraordinary actions taken in the past week, such as an ongoing corporate censorship purge of unprecedented proportions — you can expect to be accused of defending or supporting the "domestic terrorists" who carried out the mob attack on the Capitol.
Nancy Pelosi, the Speaker of the House, rationalised rushing through Wednesday's impeachment resolution at spell-binding speed — by far the fastest impeachment process ever — on the grounds that Trump posed a "clear and present danger" to the country, and needed to be removed immediately. "Imminent threats" of various stripes also have a long history of being cited to justify sweeping emergency action, such as the invasion of Iraq. Often upon further inspection, the purported "threat" turns out to have been not so "imminent", or in fact to have never existed at all.
But as rushed as the impeachment was, if the purported emergency conditions were truly so dire as Pelosi maintained, she could have theoretically summoned the House to convene the day after the mob attack and impeach Trump right away. Congress convened the very next day after the attack on Pearl Harbor to declare war on Japan, for example. Instead, Pelosi waited a full week, and gave everyone the weekend off in the interim. Trump, alleged to be in the process of orchestrating a violent "coup", was allowed to remain in office unimpeded with access to the nuclear codes for seven days.
Nonetheless, with a total of two hours of perfunctory debate — and no hearings, fact-finding or meditation on the relevant Constitutional Law considerations — Trump was impeached for the second time. As such, the text of the impeachment article will now be permanently embedded in the fabric of American governance.
One wonders who even had a chance to actually sit down and read it. The article, which charges Trump with "incitement of insurrection", is far-reaching in its potential implications. "Incitement" is an extremely narrowly circumscribed doctrine in US law, and for good reason: anyone who engages in inflammatory but protected political speech could theoretically be said to have engaged in criminally punishable "incitement" without the shield of the First Amendment. If someone who hears your speech chooses on their volition to engage in violent or criminal conduct, you in almost all circumstances cannot be prosecuted.
This new impeachment changes that equilibrium. The one quote cited from Trump in the article to demonstrate his alleged "inciting" speech was: ''If you don't fight like hell you're not going to have a country anymore.'' That line — which could have been uttered by Trump in about a thousand different contexts over the past five years — is alleged to have "foreseeably resulted in… lawless action".
I witnessed countless instances of political speech expressed by activists, journalists, and others during last summer's protests and riots which under the same standard could have been deemed to have "foreseeably resulted" in "lawless action", such as attacks on police or destruction of property. But there was always a presumption that the speech was nonetheless protected under the First Amendment. The new "Trump standard" codified by this impeachment could have drastic implications for the the future, should it be applied more widely throughout US jurisprudence. Impeachable "incitement" is also unlikely ever to include statements by a president "encouraging" violence by way of, say, military force.
Still, Trump's statements on 6 January  — just like a seemingly infinite number of others over the past five-plus years — could surely be worthy of political rebuke or censure. Indeed, Trump has already been rebuked. He's been roundly condemned by his own party and administration. His main communications platform, Twitter, has banished him. His high-profile supporters are being systematically nuked from social media writ large. He's been made to issue several humiliating statements conceding defeat and "disavowing" the MAGA mob which marched in his name. The bozo rioters at the Capitol were undoubtedly inflamed by a barrage of lies and conspiratorial delusions that Trump churned out on an almost hourly basis since losing the election — that's beyond dispute.