by Zero Hedge
3/26/21
Here's today's overview of the continued logjam at the Suez Canal:
Ever Given Partially Refloated At Stern
At Least 20 Vessels Carrying Livestock Stuck At Canal
IKEA Warns Containers Filled With Goods Blocked By Suez Crisis
Vessels Already Diverting Course from Suez Canal To Cape Of Good Hope
US Navy Arrives Saturday To Assess Ever Given
300 Vessels Waiting To Traverse Canal
Tanker Rates For Suezmax Vessels climb to $17k Per Day
Suez Blockage Results In Rising Container Prices From China To Europe
Tugboats And Dredging Ships Were Unsuccessful In Refloating Ever Given
Bloomberg Report Process To Refloat Ever Given Could Take Until Next Wednesday
Shoei Kisen, The Japanese Owner Of Ever Given, Aims To Dislodge Vessel From Canal Bank By Saturday
Suez Canal Authority (SCA) To Cooperate With US To Refloat Ever Given
* * *
Update (1654): So just how stuck is Ever Given?
The Suez Canal's engineering documents show a cross-sectional diagram of the channel where the container ship is stuck.

An overlay of the container ship and the channel's cross-sectional piece suggests the vessel is more stuck than what meets the eye via ground-based footage and satellite imagery.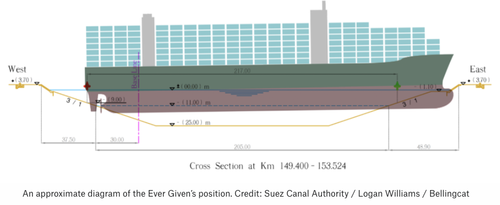 If the vessel cannot be refloated entirely, then unloading the ship with a tower crane could be the next bet. But that comes at risk since the load mechanics will drastically change and may have disastrous effects as the balance could shift. As JPMorgan's Marko Kolanovic noted earlier today, "another interesting development of this week was the blocking of the Suez Canal. While we believe and hope the situation will get resolved shortly, there are some risks of the ship breaking."
* * *
Update (1631): Ever Given, the vessel stuck in the Suez Canal, was partially refloated, Bloombergreports, citing Inchcape Shipping Services, a maritime services provider.
Inchcape said the salvage team refloated Ever Given's "stern/aft" and released the rudder at around 9 pm local time. 
There will be another attempt to refloat the entire vessel once the high tide is observed.
* * *
Update (1553ET): We reported earlier today that 300 vessels are caught in a logjam at the Suez Canal. At least 20 of those vessels are carrying livestock, according to marine tracking data. Here are more details about the ships carrying livestock via The Guardian:
Georgios Hatzimanolis, a spokesperson for the tracking website Marine Traffic, said while some livestock ships were waiting to enter the canal, three – the Omega Star, the Unimar and the Sea Star – "all appear to be stuck at various points in the canal." Marine Traffic data showed 11 delayed livestock ships, while an NGO has identified others, bringing the total identified so far to 20.

Five of the ships identified had loaded animals in Spain, and nine had loaded in Romania earlier this month, according to the NGO Animals International.

Gerit Weidinger, EU coordinator for Animals International, said data from marine tracking websites indicated the Unimar left Spain on 15 March bound for Jeddah. The Omega Star left Spain, she said, on 16 March bound for Port Said.

There were no immediate welfare concerns for the animals, but if the Ever Given has to be lightened to make it easier to dislodge, using cranes to remove enough containers could take weeks and the surrounding ships would need to leave and find longer alternative routes.
* * *
Update (1540ET): With billions of dollars in goods unable to transit the Suez Canal. Reports state consumer goods destined for Western countries are stuck on board container ships.