by Zero Hedge
Former President Donald Trump will visit East Palestine, Ohio, next week, tweeted his son, Donald Trump Jr.
"Breaking News: Trump will visit East Palestine, Ohio next week.

"If our "leaders" are too afraid to actually lead real leaders will step up and fill the void," Donald Trump Jr. tweeted.
The former president's planned visit comes as the Biden administration, Ohio state officials, and many mainstream media outlets have downplayed the environmental disaster in the small blue-collar town after a train hauling toxic chemicals derailed two weeks ago.
The botched response by the federal government, for instance, rejecting Federal Emergency Management Agency (FEMA) assistance early this week to only U-turn last night, shows the awful response effort by the Biden administration.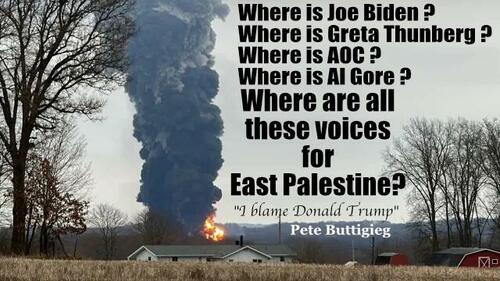 Trump wants to capitalize on what Legal Insurrection states, "Ohio's toxic train derailment is Biden's Katrina."
President Biden has barely mentioned the East Palestine chemical disaster. It took Secretary of Transportation Pete Buttigieg nearly a week to respond publicly to the incident while reports of residents getting sick from the fumes flared up after a controlled burn of toxic chemical vinyl chloride. 
Trump is taking advantage of Biden's response failure to civic catastrophe. We call this the 'Katrina play' as the former president will rile up his base next week about how lousy the Biden administration has been in assisting blue-collar Americans.
If this works, Trump might score political points ahead of the 2024 presidential election cycle. Americans just want answers about the chemical disaster that the government and media have kept so many in the dark.