by Zero Hedge Sat, 11/28/2020 – 17:00
Submitted by Rusty Weiss of The Mental Recession,
Robby Dinero, the owner of Athletes Unleashed gym located in Orchard Park, New York, tore up a $15,000 fine from the Erie County Health Department during a live Fox News interview.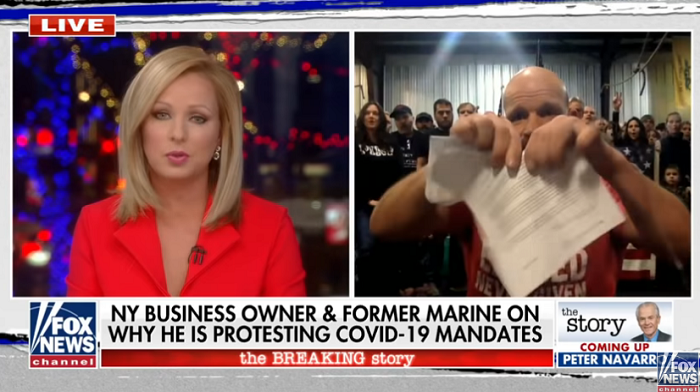 Dinero got hit with the extraordinarily hefty fine following a confrontation in which roughly 50 business owners attending a meeting inside the gym refused to allow a pair of sheriffs and a health inspector entry to the building without a warrant.
"They picked a fight with a Marine and a whole bunch of patriots," the gym owner said in a separate interview with WBEN, before pointing out that "The Constitution protects those rights."
New York Gym Owner Rips Up His Fine, Says He Will Not Comply
Dinero, speaking with Fox anchor Sandra Smith, reiterated that Governor Andrew Cuomo's lockdown edicts infringe upon his rights.
The veteran, having pointed out Cuomo's and Erie County Executive Mark C. Poloncarz six-figure taxpayer-funded salaries, challenged them to look their constituents' children in the eyes and tell them their parents' work is not "essential."
The lockdown rules, he believes, deny citizens their Constitutional right to earn a living.
Dinero then ripped up the fine on camera while supporters behind waved American flags and shouted, "We will not comply."