Authored by Daisy Luther via The Organic Prepper blog,
There have been a lot of scary headlines out there about new strains of Covid and even "super-Covid." This is causing a lot of people to freak out because they're thinking, "Holy cow, is this thing getting even worse?"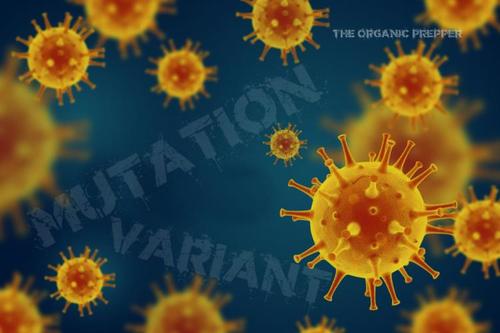 Keep in mind I am not a virologist or a medical professional. Neither are the politicians taking advantage of this crisis, the folks pimping Big Pharma drugs, or the journalists writing breathless headlines. I'm just another writer out there reading stuff and trying to figure this out, the same as everyone else.
Viruses mutate
"Mutation" is a scary word. It brings to mind every sci-fi nightmare brought to life on the big screen of some lab-born creature that gets totally out of control. It makes you think of rats so big you could saddle them and ride them. Crazy, terrifying stuff.
But viruses mutate. It's the nature of a virus.
To survive: unlike plants, animals and other organisms, the only way a virus can reproduce is through a host cell, which it does by attaching its surface proteins to the cell's membrane and injecting its genetic material into the cell. This genetic material, either DNA or RNA, then carries with it the instructions to the cell's machinery to make more viruses. These new viruses then leave the cell and spread to other parts of the host organism.

But host organisms are not passive observers to this process, and over time a human's or pig's immune system can learn from these encounters and develop strategies to prevent reinfection. The next time the same virus comes to a host cell, it may find that it is no longer able to attach to the cell's surface membrane. So to survive, viruses must adapt or evolve, changing its surface proteins enough to trick the host cell into allowing it to attach. (source)
So while the headlines are scary – and meant to be – it's perfectly natural that this virus has changed.
This isn't always a bad thing.
All mutations aren't "bad" mutations. The fact that a virus mutates doesn't mean that the virus is "worse." I know when a virus mutates in a movie or book, it's always the bane of humanity but in reality a mutation isn't always a bad thing.
What about this Super-Covid business?
Again – it's a mutation – a change, but not necessarily more deadly.
A preliminary study published May 5 at bioRxiv.org, for instance, found a mutation in the SARS-CoV-2 spike, a protein on the outside of the coronavirus that allows it to break into cells. This new variant is now found more often in places like Europe and the United States than the original form of the coronavirus. That may mean the change makes the virus more transmissible, the authors concluded. But the study lacked laboratory experiments to support the claim.

Other explanations could also explain the pattern. The SARS-CoV-2 variant with the mutation could have ended up in certain regions thanks to random chance — a person infected with a virus that had the new mutation just happened to hop on a plane — and might have nothing to do with the virus itself. The study didn't provide enough evidence to distinguish among the possibilities.

"What I think has been potentially confusing to people is that we're watching this very normal process of [viral] transmission and mutation happen in real time," says Louise Moncla, an evolutionary epidemiologist at the Fred Hutchinson Cancer Research Center in Seattle. "And there's this real desire to understand whether these mutations have any functional difference." (source)
The evolution of a virus can have many different results – it can change the symptoms, it can make it more contagious, it can make it more deadly, or it can make it milder in order to affect more hosts. Just the fact that the virus mutated is not a death knell. It's normal.
What about "Super-Covid?"