by Zero Hedge
1/3/2021
President Trump has filed two lawsuits against Georgia Secretary of State Brad Raffensperger over a leaked phone call obtained and published by the Washington Post on Sunday, in which Trump badgered the Georgia official over election fraud.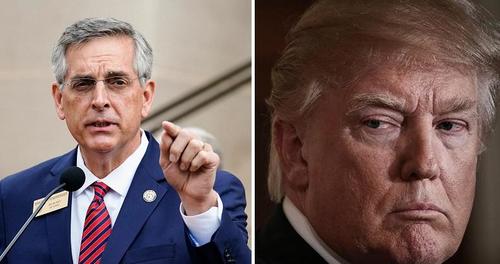 "President @realDonaldTrump has filed two lawsuits – federal and state – against @GaSecofState," tweeted Georgia Republican Party Chairman David Shafer.
At one point in the call, which took place just days before the state's January 5 Senate runoffs, Trump reportedly tells Raffensperger "All I want to do is this. I just want to find 11,780 votes, which is one more than we have. Because we won the state," referring to Biden's win by 11,779 votes.
We're guessing, but who knows, Trump was suggesting that in a state plagued with widespread accusations of voter fraud, including claims that batches of 100% Biden ballots were processed while Trump ballots were tossed or destroyed, that Raffensperger could simply 'find' enough uncounted Trump ballots to overcome the fraud.
Shafer then accused the Post of misrepresenting the phone call by "heavily editing" it to omit a portion where it was allegedly made clear the discussion was for the purposes of settling litigation, and therefore confidential under federal and state law, to which The Post's Amy Gardner replied, "This is false. We published the entirety of the call, from start to finish."
On Sunday morning, Trump confirmed that he and Raffensperger had spoken, tweeting "He was unwilling, or unable, to answer questions such as the "ballots under table" scam, ballot destruction, out of state "voters", dead voters, and more. He has no clue!"
Raffensperger responded, tweeting "Respectfully, President Trump: What you're saying is not true. The truth will come out."