by Zero Hedge
Update (2100ET): At 8:29pm ET, Trump – having been suspended from his personal twitter account – decided to use the official twitter account of the US president, @POTUS, saying that "Twitter employees have coordinated with the Democrats and the Radical Left in removing my accounts from their platform to silence me – and YOU, the 75,000,000 great patriots who voted for me." Trump then said that "Twitter may be a private company, but without the government's gift of Section 230 they would not exist for long."
Trump, who has yet to create his own Parler account, continued: "We have been negotiating with various other sites, and will have a big announcement soon, while we also look at the possibilities of building out our own platform in the near future."
"We will not be SILENCED! Twitter is not about FREE SPEECH. They are all about promoting a Radical Left platform where some of the most vicious people in the world are allowed to speak freely" the president boomed.
He concluded with an all caps "STAY TUNED!"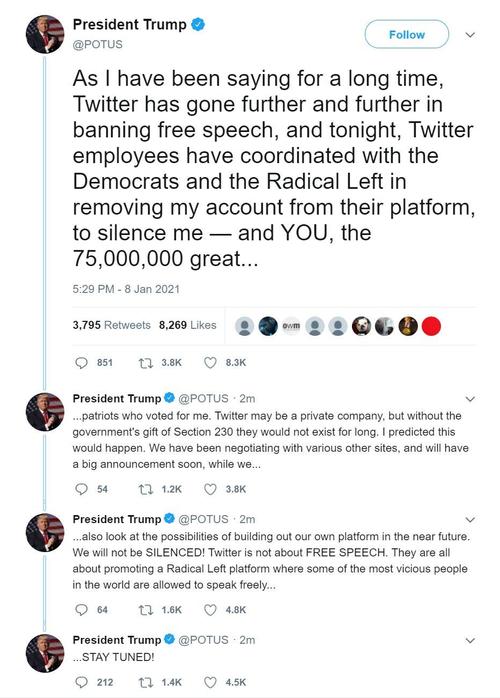 Just moments later, twitter deleted all of the above tweets from the @POTUS account. The last remaining tweet on that account which at 33.4 million has a little over a third of Trump's original 88 million followers, is from December 23.
The deletion was followed by a tweet from none other than Trump's nemesis, Hillary Clinton, who gloated that Trump's account has indeed been deleted as she urged him to do just before she lost the 2016 election to him.
Shortly after, Trump also tweeted using his campaign, @TeamTrump account. Literally 10 seconds later the account was suspended.
The deletion was confirmed by the TeamTrump social media director:
According to VOA reporter Steve Herman, a twitter spokesperson said that "As we've said, using another account to try to evade a suspension is against our rules. We've permanently suspended the @TeamTrump account."