by Zero Hedge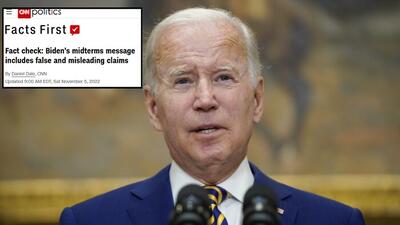 Last week, the New York Times wrote a puff piece which framed President Biden's numerous gaffes during a Florida rally as 'verbal fumbling.'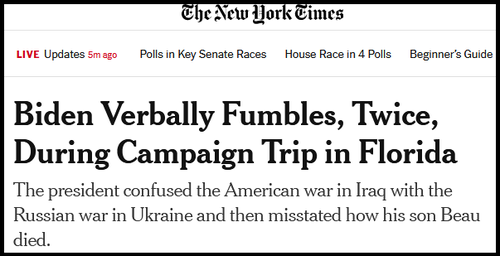 Biden conflated the war in Ukraine with the Iraq war, then lied when he said he got the two confused because his son Beau died in Iraq.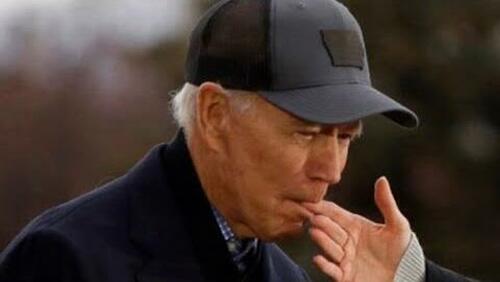 Fast forward four days, and both CNN and the New York Times have gone scorched earth on Biden, in what appears to be a' coordinated effort' to distance mainstream Democrats against a President who's become an increasing liability with batshit crazy comments, obvious confusion, and several recent sniffings.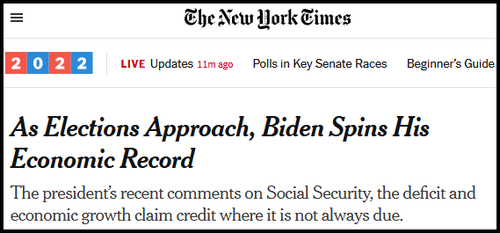 For example, Biden routinely positions himself as an unprecedented cutter of budget deficits, as he did recently in Syracuse:
"This year the deficit, under our leadership, is falling by $1.4 trillion. Ladies and gentlemen, the largest ever one-year cut in American history on the deficit."
Not so fast, says the Times:
Left unsaid was the fact that the deficit was so high in the first place because of pandemic relief spending, including a $1.9 trillion economic aid package the president pushed through Congress in 2021 and which was not renewed. Mr. Biden was in effect claiming credit for not passing another round of emergency assistance.
What the Times didn't point out was that Biden and the Democratic Congress have teamed up to significantly increase deficits over the budget horizon, as illustrated by the Manhattan Institute's Brian Riedl: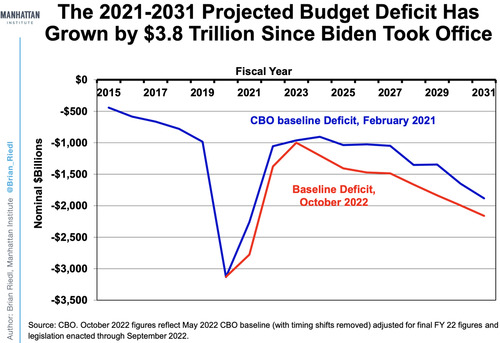 Fact check leads White House to delete tweet, then the spin begins…
Hilarity ensued over the Social Security self-own, as Twitter users "added context" that demolished the boast… causing Elon Musk to tweet; "The system is working."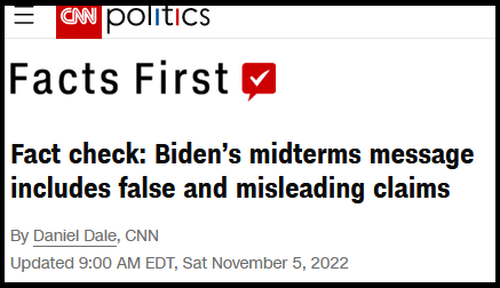 They ding Biden on the Social Security propaganda and lying about corporate taxes.
Biden repeatedly suggested in speeches in October and early November that a new law he signed in August, the Inflation Reduction Act, will stop the practice of successful corporations paying no federal corporate income tax. Biden made the claim explicitly in a tweet last week: "Let me give you the facts. In 2020, 55 corporations made $40 billion. And they paid zero in federal taxes. My Inflation Reduction Act puts an end to this."

But "puts an end to this" is an exaggeration. The Inflation Reduction Act will reduce the number of companies on the list of non-payers, but the law will not eliminate the list entirely.

That's because the law's new 15% alternative corporate minimum tax, on the "book income" companies report to investors, only applies to companies with at least $1 billion in average annual income. (There are lots of nuances; you can read more specifics here.) According to the Institute on Taxation and Economic Policy, the think tank that in 2021 published the list of 55 large and profitable companies that avoided paying any federal income tax in their previous fiscal year, only 14 of these 55 companies reported having US pre-tax income of at least $1 billion in that year.

In other words, there will clearly still be some large and profitable corporations paying no federal income tax even after the minimum tax takes effect in 2023. The exact number is not yet known. -CNN
CNN then called out Biden for lying about the national debt and the deficit, the unemployment rate, his student debt cancellation scheme, gas prices, Chinese President Xi Jinping, and the Trump tax cuts.
What's going on here?