Let's hope this trend does not have a snowball effect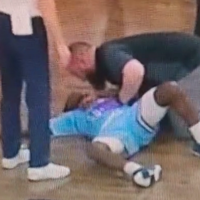 In the first nine days of the year 2023, a shocking amount of "sudden" deaths and people "collapsing" have been reported by news outlets across the world.
The most notable medical episode thus far was the on-field collapse of the NFL's Damar Hamlin who thankfully survived, but several other incidents have made headlines in the first days of the new year.
With young and healthy people seeming to be dying and suffering medical issues more than ever before, many are questioning the role the experimental Covid jabs are playing.
For example, watch cardiologist Dr. Peter McCullough's take on the Hamlin situation below:
On Thursday, professional basketball player Tristan Thompson's mother died suddenly in Canada after suffering a heart attack.
A 16-year-old girl named Ashari Hughes died after collapsing on the field during a flag football game in Las Vegas, Nevada.
Hughes started experiencing chest problems during the game, went to the sidelines to rest and collapsed.
The Clark County Coroner's office has yet to release a cause of death.
On Saturday, former Cameroon and Paris Saint-Germain soccer star Modeste M'Bami died at the age of 40 after suffering a sudden heart attack.
Child actor Adam Rich also passed away on Saturday as the 54-year-old was found unresponsive in his Los Angeles home.
Many people online, including fellow Hollywood star Adam Baldwin, pointed out Rich had posted on Twitter in 2021 confirming he was vaccinated and virtue signaling about his pro-vax stance while attacking the unvaccinated.
On Friday, January 6, an English soccer coach for the Newark Town FC "suddenly died."
"It is with total shock, disbelief and devastation that the club is reporting that Mark Nesbitt, our girls' section lead, has died," the team wrote on Facebook.
Days after Hamlin's incident, an Old Dominion basketball player named Imo Essien fell to the hardwood during a game and had to be treated by medical staff.
Essien clutched his chest as he hit the floor and was luckily able to sit with his teammates on the sideline for the remainder of the game.
On Sunday, a Canadian news reporter was captured on live television suffering a scary medical episode where she appeared dizzy and began leaning towards the camera before seeming to stumble forward.
The news outlet employing the reporter released a statement saying she "became ill" during the broadcast, with no further elaboration except to say she's "feeling better and is now resting."
The Twitter page for the hit documentary "Died Suddenly" has also been posting articles about individuals tragically dying without notice.
Early Saturday morning, a 45-year-old Canadian father and husband named Jim Collins died suddenly.
A 33-year-old Los Angeles Times reporter named Gregory Yee died from a respiratory issue on Wednesday after previously bragging about receiving a Covid jab and admitting the shot gave him terrible side effects.
A 37-year-old police lieutenant in Yorktown, New York named Kenny Sgroi died suddenly on January 2.
"Kenny took ill very suddenly," Yorktown Police Department Chief Robert Noble stated.
35-year-old middle school teacher Jacob Sanchez unexpectedly collapsed in front of his students last week and died from a heart attack.
The principal at the school, just outside San Antonio, Texas, said she talked with Sanchez moments before he passed away, saying, "He seemed fine and everything seemed fine."
The incidents referred to above are only a portion of the "sudden" deaths and injuries that have taken place in the first nine days of 2023.
Last month, December 2022, also saw a profound number of people collapsing and dying out of the blue.
See the headlines below for more information: