by Zero Hedge
Arkansas Gov. Sarah Huckabee Sanders signed an executive order banning indoctrination and critical race theory (CRT) in the state after being sworn in as governor.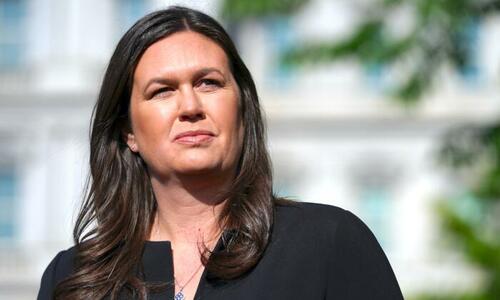 Schools must "educate, not indoctrinate" students and that the state's education policies need to "protect children and prepare them to enter the workforce," according to the executive order, obtained by the Daily Caller.
CRT controversially teaches that America is fundamentally racist, promotes skin color as a person's primary characteristic, and assigns moral fault to individuals—usually white people—solely based on their skin color.
CRT has been a controversial ideology meeting resistance from parents and communities across America, who argue that it teaches a distorted definition of what racism has traditionally meant.
Sanders' executive order, signed Jan. 10, declares CRT "antithetical to the traditional American values of neutrality, equality, and fairness."
"It is the policy of this administration that CRT, discrimination, and indoctrination have no place in Arkansas classrooms," the executive order reads.
'Prohibited Indoctrination'
The executive order directs Arkansas' education secretary to ensure that "prohibited indoctrination" is not communicated to students by any public school employee, public school representative, or guest speaker.
CRT is considered prohibited indoctrination because it encourages students to adopt, affirm, and profess ideas that white people are inherently racist, in violation of the Civil Rights Act.
"This prohibited indoctrination would include anything that teaches that people of one color, creed, race, ethnicity, sex, age, marital status, familial status, disability, religion, national origin, or any other characteristic protected by federal or state law are inherently superior or inferior to people of another color, creed, race, ethnicity, sex, age, marital status, familial status, disability, religion, national origin, or any other characteristic protected by federal or state law," the order states.
The order bans any requirement for school employees or students to attend any training sessions or orientations that on prohibited indoctrination or CRT.
Curriculum Transparency
In signing the executive order as one of her first acts as governor, Sanders has taken the stance that government education policies must empower parental rights and foster curriculum transparency across the state.
The order directs the secretary of the state's education department to review the rules, policies, materials, and communications of the department to ensure they comply with Title IV and Title VI of the Civil Rights Act of 1964.
"No person in the United States shall, on the ground of race, color, or national origin, be excluded from participation in, be denied the benefits of, or be subjected to discrimination under any program or activity receiving Federal financial assistance," Title VI of the Civil Rights Act states.
Arkansas' state constitution and the U.S. Constitution provide equal protection under the law, regardless of color, creed, race, ethnicity, sex, age, marital status, familial status, disability, religion, and national origin.
Sanders' executive order directs the state's secretary of education to probe the department for any "items" that promote ideologies such as CRT that purposely encourage students to discriminate based on race and other protected attributes.
Any "items" that are found to indoctrinate students with ideologies like CRT, such as rules, regulations, policies, materials, or communications, must be changed or annulled, according to the order.
Sanders Signals 'Turning Point'
Sanders took the oath of office in the lower chamber of the state Legislature ahead of a joint session and was formally inaugurated on the state Capitol steps on Tuesday afternoon.
Speaking for roughly 15 minutes at her inauguration, Sanders said her ascension to the office marks a "turning point in the history of Arkansas" that would usher in a new era of "good jobs, great schools, safer streets, and stronger families."
"The people of Arkansas, in their vast wisdom, have entrusted a new generation to lead. This is our moment. This is our opportunity," she said.
Sanders, whose father Mike Huckabee was Arkansas governor from 1996 to 2007, is the first woman to hold the governor's office in Arkansas. Her election marks the first time a father and daughter have been elected to the role.
During her campaign, Sanders, who served for nearly two years as White House press secretary under former President Donald Trump, focused mainly on national issues. She regularly promised to use the office to fight the policies of President Joe Biden and the "radical left."
She succeeded incumbent Arkansas Gov. Asa Hutchinson, a Republican, who left office as he cannot seek re-election to a third term because he is term-limited. Hutchinson endorsed Sanders's bid, along with Trump.