by Zero Hedge Thu, 11/26/2020 – 15:00
Authored by Daisy Luther via The Organic Prepper blog,
Imagine you're sitting around the table with your family, inhaling the aroma as grandpa begins to carve the turkey, and there's a knock at the door.
Is it a late guest? A neighbor dropping by?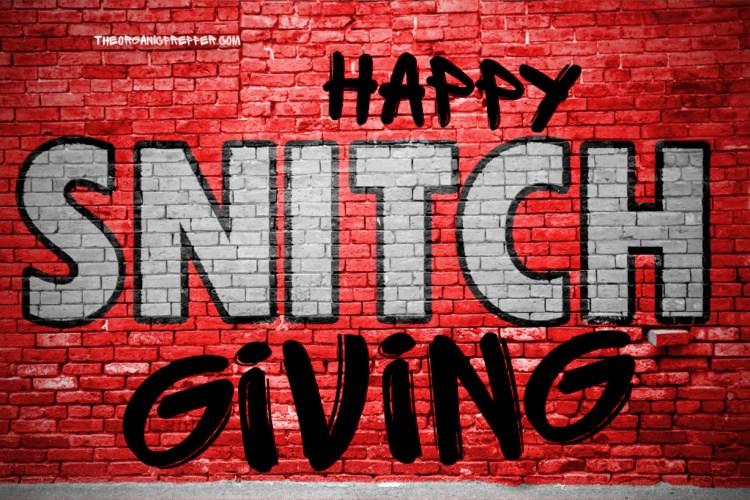 No, it's a health official or the police there to quell your gathering because somebody snitched on you for making the decision to spend time with the people you love.
It certainly sounds dystopian, doesn't it? Or like something from a country under enemy rule? But it is indeed the United States of America where government officials are urging people to rat out their neighbors for having more visitors on Thanksgiving than they see fit. Stay up to date with all the insanity by subscribing here.
We've already talked about the massive overreach of governments telling people how they are or are not allowed to celebrate Thanksgiving in their own homes. Now let's take it up a notch while watching our neighbors get turned into Brownshirts for "the greater good."
Lots of folks are willing to narc on their neighbors.
Don't fool yourself into thinking your neighbors wouldn't do such a thing. More than a third of the people who took part in a Rassmussen poll would rat out the folks next door in a heartbeat.
Thanksgiving is just around the corner, and this year promises to be an enjoyable and festive day of "narcing out" your beloved neighbors!

According to a 2020 survey by Rasmussen, 36% of American patriots would be willing to call the cops on their neighbors if they noticed an egregious violation of government-mandated social-distancing rules. (source)
Here are just a few examples from the headlines. This list is by no means comprehensive. Totalitarianism is spreading faster than the virus.
Michigan
The Michigan Department of Health and Human Services (MDHHS) wants to "save lives" by requesting gatherings be limited and relying on individuals to report non-compliance.
The Michigan Department of Health and Human Services (MDHHS) issued a new emergency order today that enacts a three-week pause targeting indoor social gatherings and other group activities in an effort to curb rapidly rising COVID-19 infection rates.

Under this order, indoor residential gatherings are limited to two households at any one time. However, MDHHS strongly urges families to pick a single other household to interact with over the next three weeks, consistent with new guidance released by the department. The order is aimed at limiting residential and non-residential gatherings where COVID-19 spreads rapidly. (source)
People should create "social pods" (I swear I could not make this up) to determine with whom you can "safely" spend time.