by Zero Hedge
3/15/21
Few have embraced bitcoin as publicly as Michael Saylor, CEO of MicroStrategy. He was buying the crypto before Tesla was on the map as doing so, and has been advocating for it vocally in the interim.
His company now holds bitcoin worth more than $5 billion, according to Bloomberg. Saylor is now personally worth $3 billion, the report says. He owns "more than $1 billion" in Bitcoin. It notes that Saylor embraced Bitcoin after finding out his firm was "sitting on a cash pile of $550 million with nowhere to put it".
Saylor told Bloomberg: "People still aren't sure: Are we crazy or are we not crazy? The only way to get economic security is to invest in scarce assets that are not going to be debased by the currency expansion. That is the environment that led us to decide we should consider Bitcoin as a treasury reserve asset."
Marc Lichtenfeld, chief income strategist at the Oxford Club, sees things differently: "Saylor equated Bitcoin to a bank – that's just ridiculous. When you put your money in a bank, the value of it doesn't go up or down by 10% a day."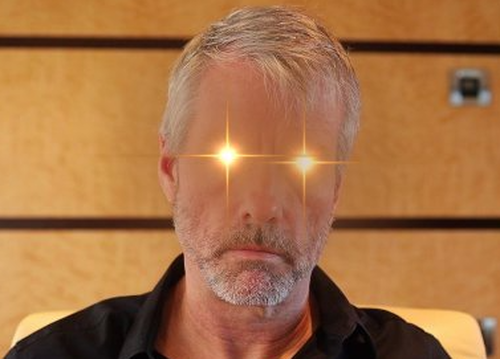 "If you're a hedge fund and you want to make that kind of a concentrated bet, you're entitled to do that," he continued. "But as a software company to make this kind of a bet is completely irresponsible."
And Saylor is no stranger to controversy. He was sued by shareholders in 2000 who alleged MicroStrategy mislead investors by booking revenue prematurely. "It's made us careful and humble and focused. Every scar informs you, and I wouldn't be who I am without having lived through those experiences," Saylor said of the incident.
"If you go back 10 years, how many people agreed that Facebook, Google, Apple and Amazon would own the world? Who were the last people to embrace this? Senior members of the establishment," Saylor said, defending his decision making. "This is a really critical point in human history. We'll build a better world on it once people understand it. We're still very early. This will be the decade."
Recall, yesterday, we also pointed out that the WallStreetBets Reddit forum that skyrocketed in popularity this year amidst the GameStop chaos is now targeting crypto miners. Though the board has a "no cryptocurrency" rule, that doesn't prevent users from talking about stocks that are tied to cryptocurrency. And that's exactly what they're doing, according to Bloomberg. Names like Riot Blockchain (RIOT) and Marathon Digital Holdings (MARA) – and of course, Saylor's MicroStrategy (MSTR) – have become mainstays of conversation on the board.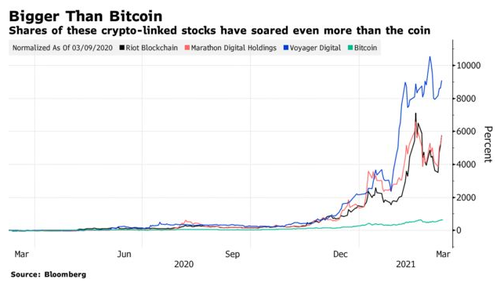 Perhaps lost amidst the bitcoin bluster is the fact that mining names have returned massive sums, in excess that of bitcoin. Marathon and Riot both surpassed 7,600% gains for the year as of March 12.
Users of the forum have been taking exception with the "no cryptocurrency" rule: "Oh, we can talk about RIOT now? Nice, I guess I can show this 16-bagger," one post said. And while the forum isn't responsible for the names taking off – they have followed bitcoin's surge – it may begin contributing to still-growing interest in the names.
Cryptos, at the same time, look as though they will continue going mainstream. Coinbase's upcoming NASDAQ listing will value it at about $90 billion.