by Zero Hedge
A city council member in Lodi, California, was arrested on election fraud-related charges amid speculation that he resigned from office, according to officials.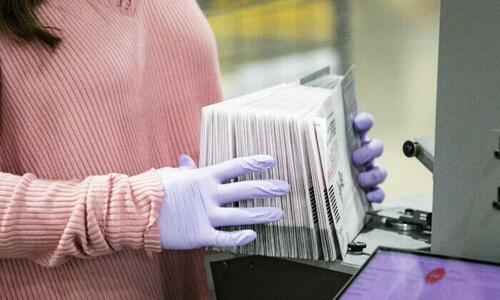 The San Joaquin County Sheriff's Office on Feb. 16 wrote that Shakir Khan, a Lodi city council member, was charged with falsely filing a declaration of candidacy, three counts of voting or attempting to vote more than once, registering a fictitious person, making or defacing a nomination paper, and a voter registration violation.
In interviews with local media outlet KCRA-3, Khan denied the allegations. He's also denied resigning from his city council seat.
"I did not resign my city council seat," Khan stated. "I will continue to serve the people that I love in my district and my community."
Khan, in the interview with KCRA, suggested that the charges were not merited. "My family and myself, we are going through some hard time right now and we are looking forward to fighting these charges," Khan said.
"The presumption of Shakir Khan's innocence still applies," his lawyer, Allen Sawyer, told ABC10 last week. "We appreciate the professionalism of Deputy District Attorney Kelly McDaniel, Deputy District Attorney Todd Turner, and Paralegal Macie McKinstry in the handling of this case. Mr. Khan will return to the San Joaquin County Superior Court in Department 6D on February 21, 2023 for arraignment on the information."
San Joaquin County Sheriff Patrick Withrow told reporters last week that a longstanding investigation found that Khan allegedly "attempted to undermine, manipulate and violate one of our most fundamental rights here in our country, and that is the right to free and fair elections."
"It appears councilman Shakir Khan has targeted members of his own community, our Pakistani community in the north county," Withrow stated. "And we are doing everything we can to work with them to make sure that they are protected and that any damage done to them or their families is corrected by this man's actions."
During a search of a business that officials said was owned by Khan, they found 41 sealed and completed mail-in ballots. Khan was, at the time, running for the District 4 seat on Lodi's City Council.
"When we saw this, we thought that something was off here and we didn't know we had a crime at this particular point because there was a recent change in election law and people can turn in ballots on behalf of another," Capt. Art Harty of the sheriff's office said during last week's press conference. Harty said the ballots were found during a 2019 investigation into Khan.
"There was a lot of weird things we found in the voter rolls," Harty also told reporters, explaining that someone who was inspecting voter rolls ahead of the 2022 midterms allegedly saw irregularities. "But when she pointed out a particular address in Lodi's District 4, that's when it clicked in our heads: 'Wait, that's Shakir Khan's address. That's the 41 ballots we saw.'"
Read more here…