by Zero Hedge
Rep. Marjorie Taylor Greene has lashed out at recent controversial remarks of Ukrainian President Volodymyr Zelensky during her Friday speech before the annual Conservative Political Action Conference (CPAC).
She addressed the Ukrainian leader by name, telling him to keep his "hands off of our sons and daughters" over the Russian invasion in Ukraine, after last month he had issued an appeal to the American public in which he chastised and berated those either unsupportive or on the fence about continuing massive defense aid.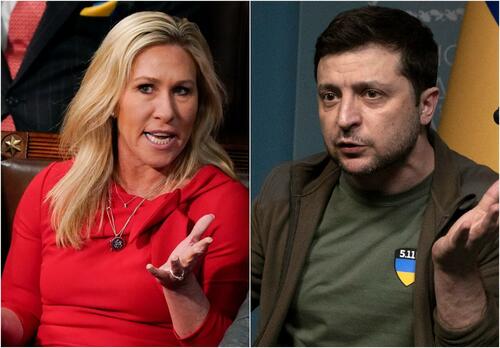 Zelensky had uttered the words in a late February press conference when asked by a reporter about growing 'Ukraine fatigue' among the US public. He began his response by saying, "If they do not change their opinion…they will lose NATO, they will lose the clout of the United States, they will lose the leadership position they are enjoying in the world."
He then quickly pivoted to saying that if Russia is not stopped in Ukraine, it will expand the invasion to other European nations. The Russian army will "enter the Baltic states, NATO member states," Zelensky claimed, before saying, "then the US will have to send their sons and daughters exactly the way as we are sending their [sic] sons and daughters to war."
Rep. Greene in her Friday speech blasted Zelensky's claim in the following:
Greene on Friday told the CPAC crowd that she was still "committed to saying no money to Ukraine, and that country needs to find peace, not war."

"And while I will look at a camera and directly tell Zelensky, you'd better leave your hands off of our sons and daughters because they're not dying over there," she continued.
While MTG's scathing criticism is predictably being greeted with outrage among staunch Kiev supporters, who will likely argue that the White House has ruled out sending American troops to fight in Ukraine, the 'mission creep' on display of the last many months has become obvious.
Among many examples, Pentagon 'advisers' and weapons trackers have been sent into Ukraine, and more recently tanks and longer-range rockets have been approved, with F-16 jets now entering the Washington debate. But a small group of GOP outliers in Congress – especially MTG and Matt Gaetz – have lately pushed to halt the unaccountable billions flowing into Kiev's coffers, regardless of how unpopular that position remains in D.C.
Reps Greene and Gaetz's stances are rare also given the vast majority of Congressional leaders treat Zelensky with rock star status, which was on display when he received long, enthusiastic standing ovations during his in-person speech before Congress last December.
As for MTG's words at CPAC, the crowd appeared to be on her side, given they loudly cheered her rebuke of Biden's Ukraine policy, while also at one point booing Zelensky's name.
Watch her full speech below…